MAISTO UNVEILS AUDI R8 V10 PLUS DETAILS
WRITTEN BY MAISTO
FONTANA (AUGUST 2016)
The May Cheong Group (MCG), manufacturers of the famous die-cast and radio control replica brands Maisto and Bburago, have released details along with photos of yet another new addition to their Exclusive line, the Audi R8 V10 Plus.
Maisto issued a list of nearly 20 dierent enhancements to the Audi R8 V10 Plus from their already highly detailed Premiere Edition line. Once removed from their unique collector's box, you'll nd the Audi R8 V10 Plus in either metallic white or red with all of its gorgeous details such as the new 3D effects on the vehicle's logos and badging. The increasing attention to detail can also be found inside the model with hits on items like the the seatbelts and even the sun visors. Further details are highlighted in the photos below as well as the accompanying page.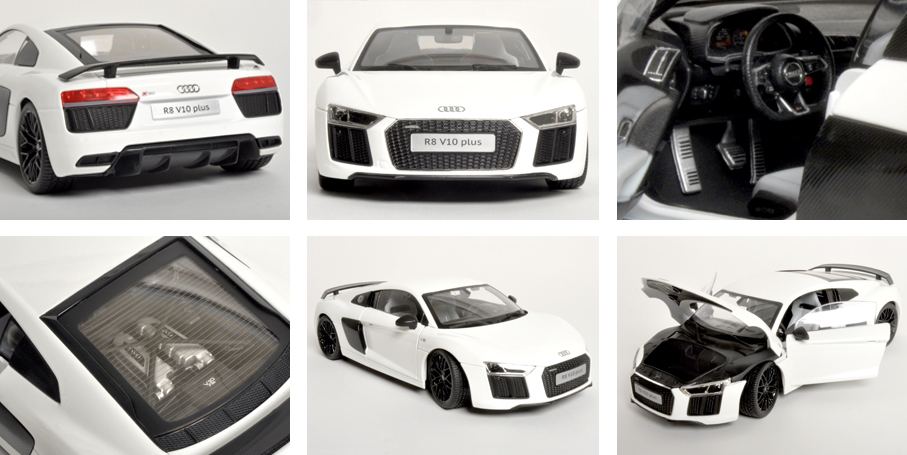 Audi R8 V10 Plus Exclusive Features
Highly detailed front and rear logo 3D effect
Higher detailed side logo with 3D effect
Decorated seating
Highly detailed dashboard
Well detailed steering wheel with 3D effect logo
Decorated sun visor
Decorated inner door
Well detailed gear lever panel
Detailed decorative two-tone interior
Highly detailed engine with 3D effect logo
Highly detailed front lights
Higher detailed front grille
Decorated front trunk with carpet effect
New black coloring on the side air-inlet
Decorative black spoiler
Well detailed rear window
Addition of side windows
Highly detailed disc caliper
Highly detailed brake disc
More information and photos, including 360˚ views, can be found on their website.
About The May Cheong Group
The MAY CHEONG GROUP is a collection of affiliated companies working together to create innovative toy and replica products. The Maisto brand name was registered in 1990 by May Cheong, a vertically integrated manufacturer based in Hong Kong. The Bburago brand was acquired in 2005. MCG employs over 7,500 employees worldwide and maintains their own manufacturing facilities covering over 2,000,000 square feet. For more information, visit them at www.maisto.com, www.bburago.com, and follow them at Facebook/Bburago, Facebook/Maisto, Instagram Maisto, Instagram Bburago, Twitter/Maisto, and Twitter/Bburago.